World Airlines
Last modified: 2021/11/21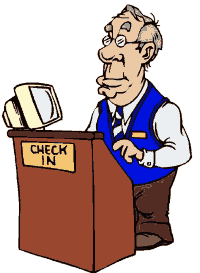 Airlines elsewhere in the world
Afriqiyah flies a modern fleet from its home base in Tripoli to Africa, Europe, and Asia. Snappy looking site offered the usual stuff, with online booking provided by Sabre but doesn't currently work.
Air Asia is a startup headquartered in Kuala Lumpur (Malaysia) offering low-fare single-class point to point service along the lines of JetBlue or Ryanair. They have some amazing intro fares, like round trip from Kuala Lumpur to Johor, across the bridge from Singamore, for RM78, about US$20. Online reservations, info, and a nice three page menu of onboard food offerings. I think I'll try the Asian egg salad sandwich. In September 2007, a new affiliate called (for the moment) AirAsia X will start low-fare long haul service between Malaysia and points as far away as Europe.
Air India has a home page chock full of dancing, blinking flash animations that looks like an Asian bazaar (which, I suppose, it is.) Site is oddly organized but has the usual stuff, online ticketing, ops, destination info, and so forth. To buy tickets you have to register as a YATRIK (Your Airline Travel Reservation Internet Kit.) It's different in India.
Air New Zealand offers schedules and booking via a private-label version of ITN/Getthere, which one time assured me that you can't fly from Auckland to New York. It's better now, although it doesn't seem to find the best fares. Also special fares and frequent flyer info. Once you're on the plane, though, the service is great, particularly those flat bed business class seats.
ANA is Japan's #2 airline, flying both domestic and international routes. Site is not fancy but very functional with much better fare info than most airlines offer. Once you buy a ticket, don't miss the cute animated seat selector.
Ansett Australia stopped flying in March 2002. But the web site has lots of tedious details of the financial dissection of the carcass.
Aerolineas Argentinas has schedules and reservations (for Argentine residents) through a private label version of Amadeus. In Spanish and English. I think it's flying this week, labor has been battling owner Iberia.
Cathay Pacific, Hong Kong's airline, offers booking through ITN and a variety of special offers such as bonus AA frequent flyer miles or package deals to Asia.
El Al has U.S. schedules and some US-oriented package info. Appears to have on-line booking although I couldn't get it to work.
Emirates, the airline of Dubai, has an attractive site with info about schedules, packages and special offers, and requent flyer info. The on-line booking makes it easy to search by schedule, even among multiple days, somewhat possible to search by fare, and due to Javascript bugs I can't tell whether it actually sells tickets.
Gol is a low-fare airline flying in Brazil and a few adjacent countries. Routes, fares, e-tickets, ground connections. Nice flash animation of flying pigs on the home page.
Kingfisher flies throughout India and to London and a few cities in Asia. Service is supposed to be quite good, although they're reported to be running out of money. Bright red web site has all the usual stuff.
Lan Chile has an attractive multi-lingual site with schedules, fares, and some cheap Internet-only specials.
Malaysia Airlines has route and schedule information, with frequent special deals, but if you want to buy a ticket, you have to call them.
Pacific Blue is a new bit of the Virgin empire that flying from New Zealand to Australia and other South Pacific points and, later this year, domestically in New Zealand. The web site is basically the same as its ozzie parent Virgin Blue, with some really cheap introductory fares on their new routes.
Polynesian Airlines has basic routes and schedules.
Qantas has an attractive site with online booking, schedule info and flight ops and a downloadable off-line Windows itinerary manager. Bookings are oriented toward but not limited to Australian residents.
Royal Air Maroc has an attractive site with a fragile connection to Amadeus that will occasionally sell you a ticket. Site has a grab bag of other goodies such as detailed information on many airports they fly to (but none of the ones in Morocco), and the results of the 4th World Executive Challenge golf tournament.
Royal Jordanian has a stylish but slow web site with routes and schedules to and from their Amman hub.

Singapore Airlines has schedule info, reservations, frequent flyer, and info on their new A380s. It's best viewed via a server that will filter out anything that's unwholesome.
South African Airways has schedules and a little destination info, but they've toned down the eye-straining graphics. Occasional seat auctions.
Varig, is now a subsidiary of low cost carrier Gol, the old Varig having run out of money and died a while ago. Web site entirely in Portugese has schedule info and reservations.
Virgin Blue is a low-fare domestic airline in Australia with its hub in sunny Brisbane. Schedules and on-line booking. Lunch costs extra.
---

PLEASE NOTE: I am not a travel agent, just an interested traveller. Everything I know about on-line travel info is in this FAQ. Don't write or call me asking for fare quotes, packages, or any other travel agent info, because I don't have it.
---

European Airlines


Airline info home page


Generalist travel agents: U.S.


© 1996-2009 I.E.C.C.


info@airinfo.travel